Interior Design Team
CENTRO Group is divided into the following business sectors:
FURNITURE & RESIDENTIAL DESIGN TEAM
The Furniture & Residential Design Team are well-known for originality and have attracted much attention with unique designs. They provide tailor-made services for home decoration, premium furniture and space planning. Integrating great design, lifestyle and cost effective solutions; the 'one-stop' service invite customer participation at the heart of each project.
ELITE HOUSE – Interior Design and Renovation Project Consultants
Projects include luxury residential planning, shops, show flats, hotels and tourist resorts. The Kitlab team combine creativity, aesthetics and extensive knowledge in designing space to suit personal lifestyle.
Highly regarded Elite House focus on top-quality consultancy and follow-up services. From design to product selection, materials can be selected with the senior consultant - Tsuen Wan Gallery. The team provide a rich project management environment and meticulous construction supervision through to completion.
CENTRO Interior Design and Renovation Project Team
Founded during the new millennium, CENTRO prides itself on fresh innovation design. Experienced team offers new and exciting concepts that have won worldwide acclaim.
CENTRO has profound knowledge and rich experience in the works field, an elite team relentlessly pursues performance, innovation and superior results. Keeping up with the industry trends and restraining the expression of stereotypes, the team adheres to their consistent principles and maintains close contact with collaborators, ensuring that the project is built in accordance with the requirements.
"Step-by-step" is our favorite company motto. In a highly competitive business environment, we are truly delighted that our projects have successfully turned our clients into advocates.
CENTRO one-stop service included:
Interior Design and Space Planning - Provide customers with services such as building inspection, space planning, interior design, drafting, management and supervision.
Decoration Design - Regardless of residences, shops, hotels, show flats, etc., we provide a full range of interior design plans, furniture and renovation solutions to meet clients' goals.
Custom-Made Furniture - Backed by CENTRO's 220,000sqf factory, equipped with large-scale European machines, and specializes in the design and production of bespoke furniture. Whether it is a diamond shaped lounge, irregular space, or a solitary window sill, our in-house production is committed to creating high-end interior projects for clients.
Construction Supervision - One-stop service can provide on site measurement, interior design, furniture design and manufacture, on site assembly and construction, managed by the professional teams, delivering seamless collaboration, and each project will undergo strict coordination and supervision.

Styling and Decor Advice - In addition to home design, we can advise on accessory choices, provide supplier list to our clients or to help purchase on their behalf.
Project Categories
Penthouse - The Spectacle
With exquisite furnishings and views of Victoria harbour, 'The Spectacle' is situated bayside - Yau Tong. Accentuated with abundant natural light and luxury finishes, this ocean condo is delightfully paved and beautifully presented.
The open-plan living room utilises marble and metal elements to boost its aesthetic appeal. Clever décor and styling allow family and friends to freely communicate. Stone dining table and ghost chairs support a contemporary feel. Exquisite chandelier conveys themed lighting to the room.
The magnificent master bedroom with marble feature wall emits grandeur! Behind the TV partition, the study and storage area create a sense of openness. The bedroom adopts natural veneer and E0 coreboard to construct a convenient platform bed and book counter. Scheme light and texture add depth to the interior.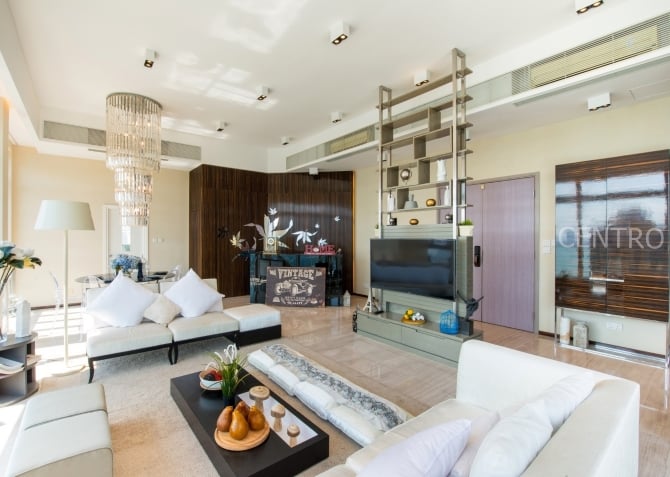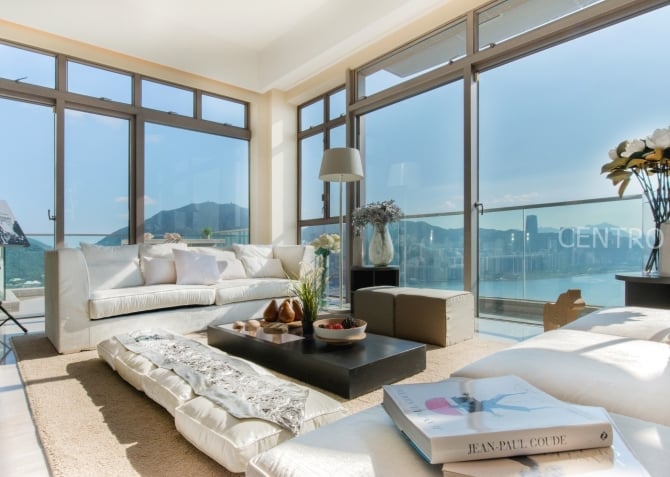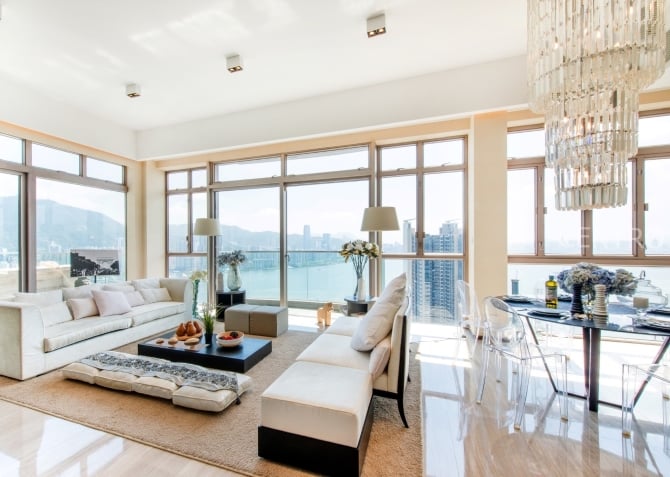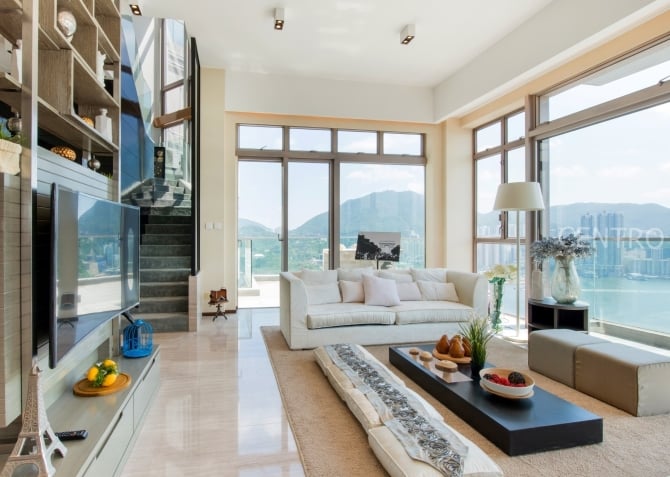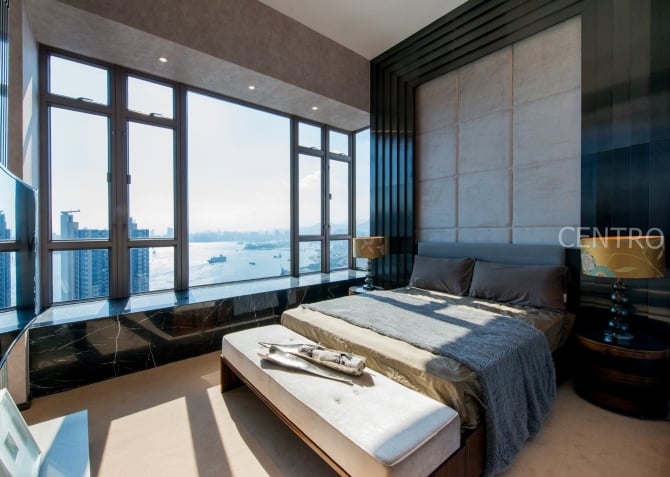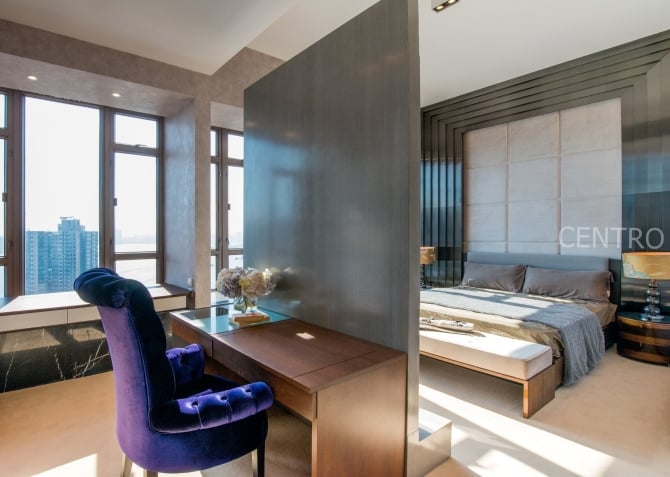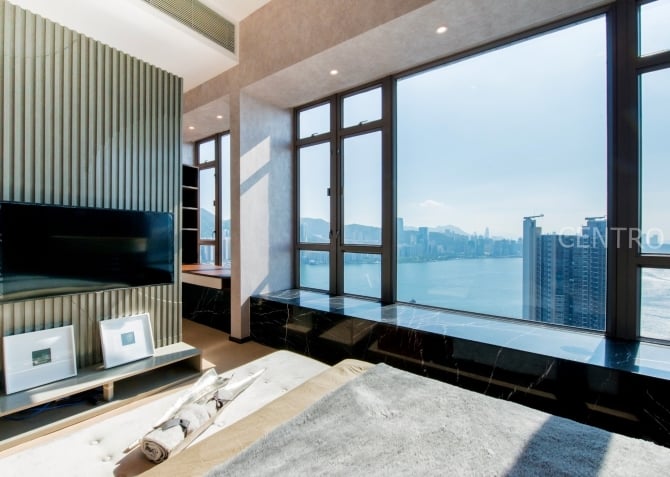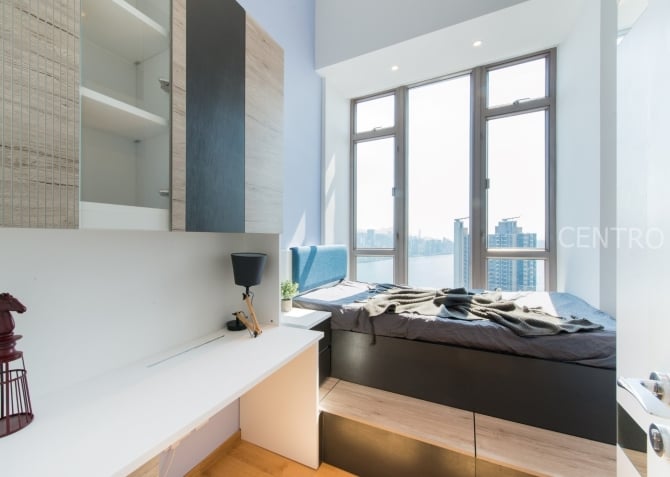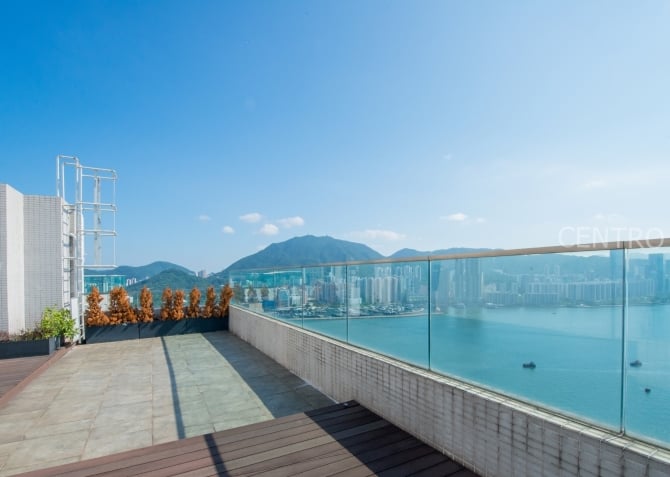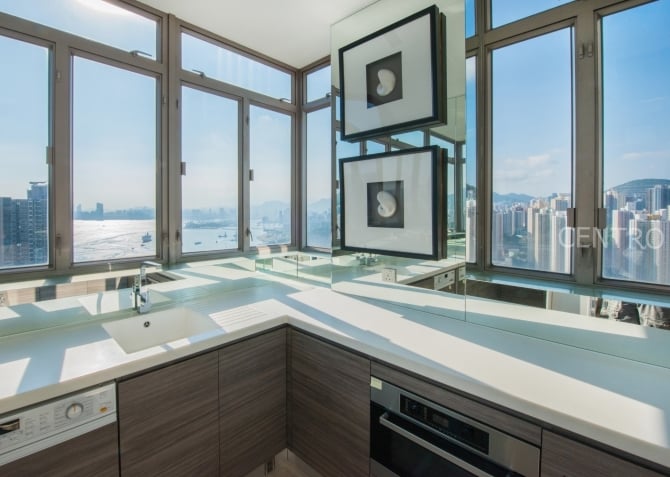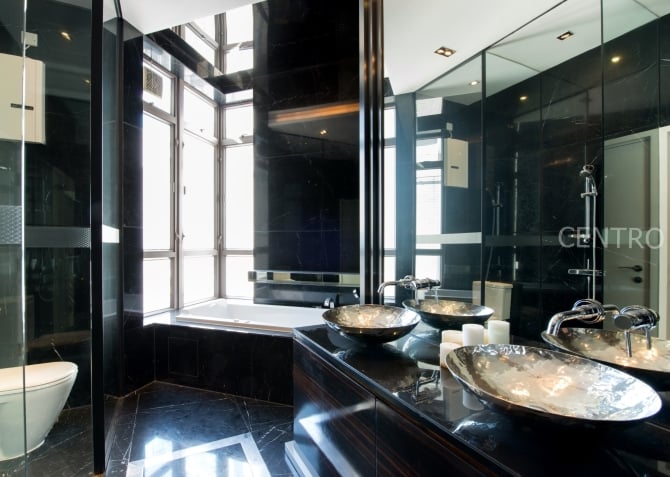 Show Flat - Harbour Pinnacle
CENTRO participated in the Henderson Land 'Harbour Pinnacle' development show at Tsim Sha Tsui.
Convenient to Victoria Harbour, the Harbour Pinnacle apartment is in the heart of the CBD. To enhance the visual appearance we added a natural veneer and cheerful colour scheme. The modular vertical cabinet created a layered space and the extended dining table promotes the narrow environment. Luxury high-end sofa exquisitely crafted with delicate touch. Bedroom decorated in cohesive palette and cabinets with shelving offer space for easy placement.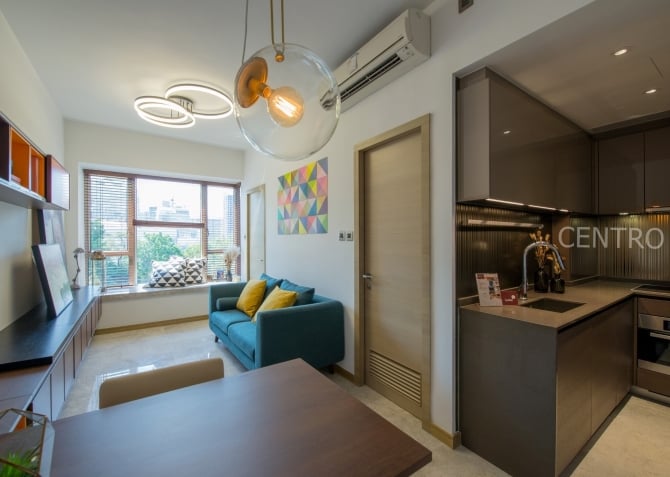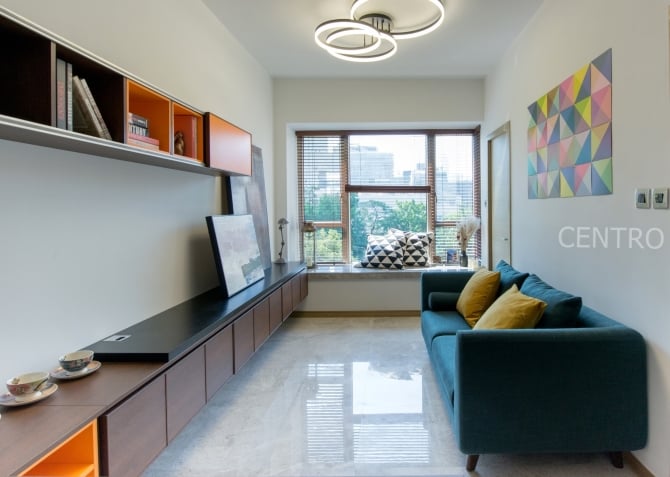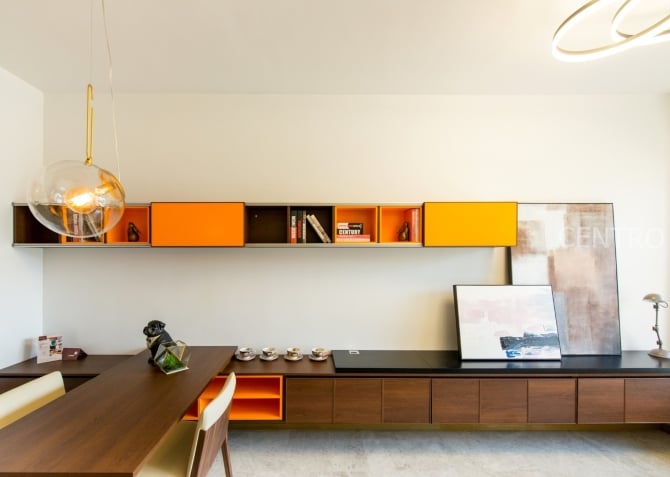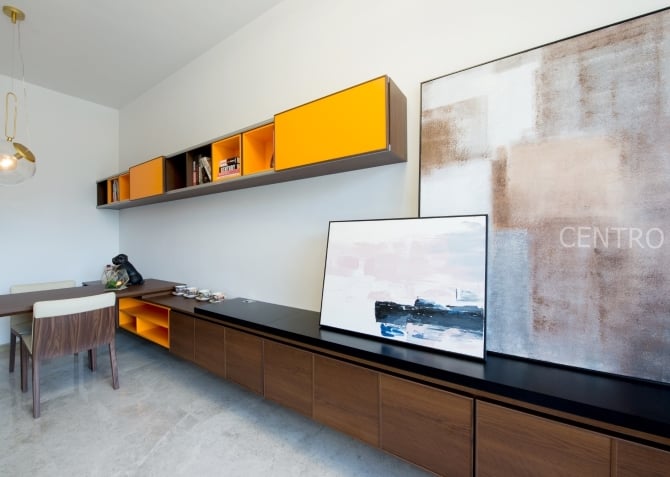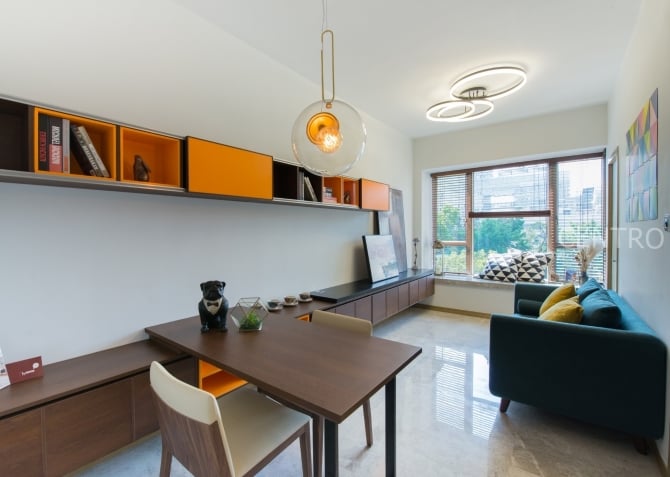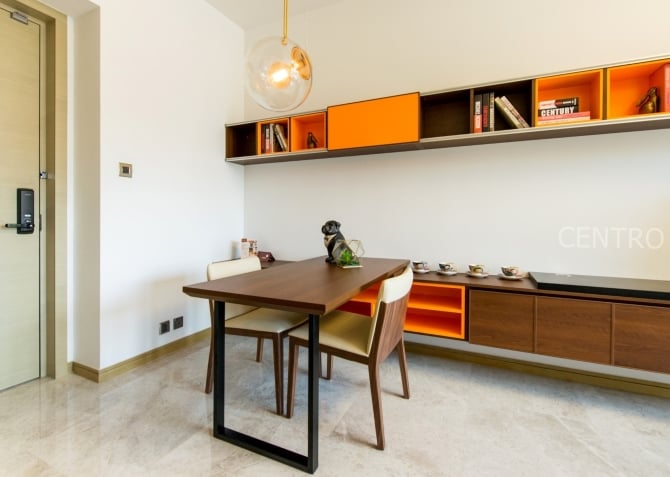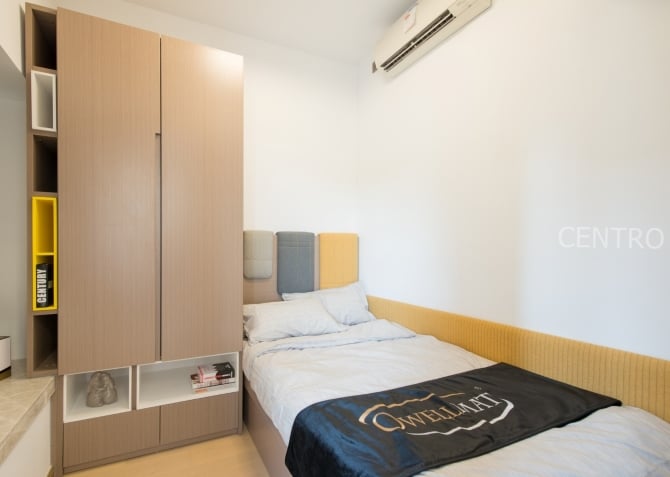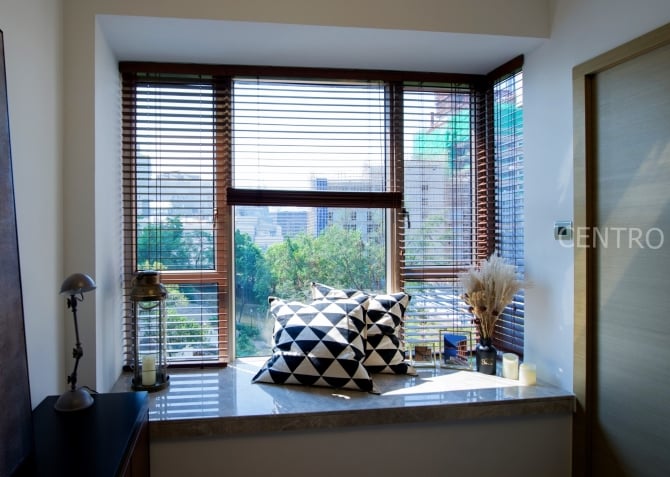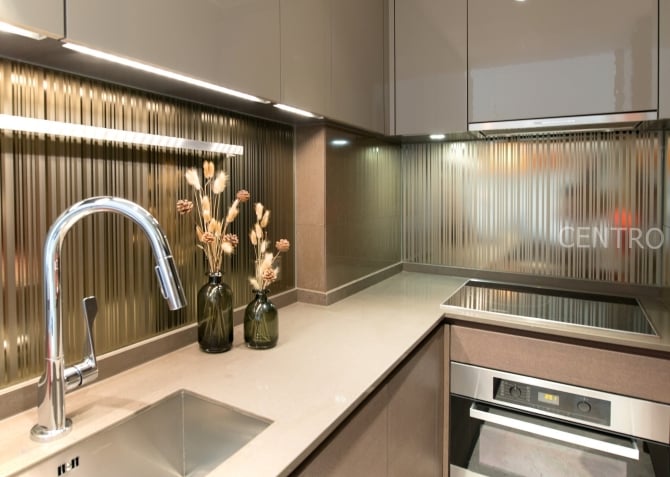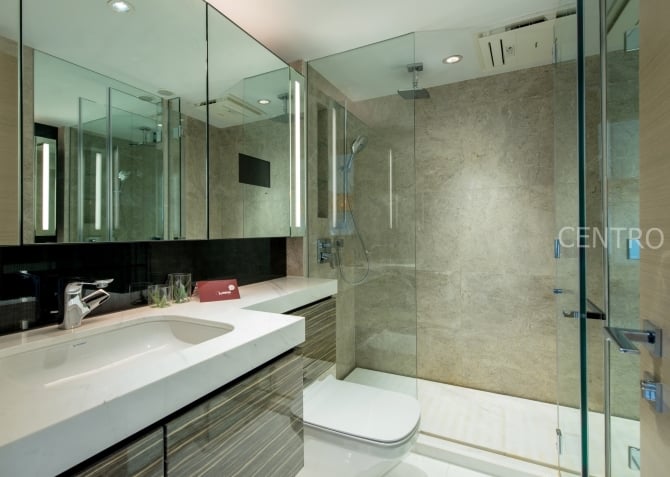 Detached House / Villa - Marina Cove
Offering magnificent panoramic waterfront views, Marina Cove is situated in the peaceful low density neighbourhood of Sai Kung. The stylish wooden interior and asian cultural elements create a touch of elegance.
Living Room:
Integrated with the finest materials, the oriental nostalgic design compliments a delightful scene. Featuring a lavish couch, log coffee table, Chinese-style pattern screen and archaize items fully display the craftsmanship and creativity. The full-height panoramic window harmonises perfectly with the pleasant inner bay scenery.
Dining Room:
Double-dining area caters to different food cultures and social functions. The western style dining area and bar gives a laid-back feel. The Japanese Tatami dining room creates a perfect blend of functionality and elegance. Befitting the most discerning needs, it offers sumptuous living and stylish cuisine dining.
Kitchen:
Spacious and versatile open-plan kitchen brings a welcoming hub to show-off your culinary skills in style. The log workbench is a great spot for family and friends to be wined and dined.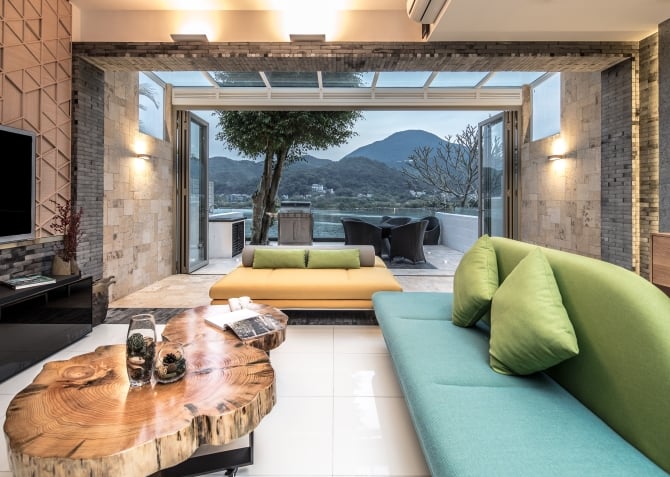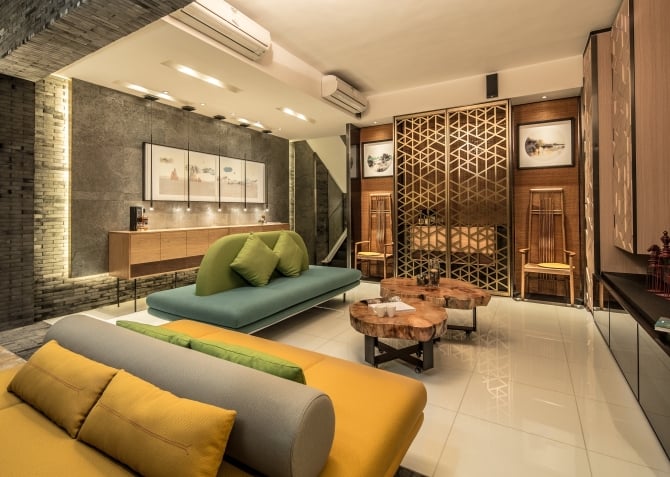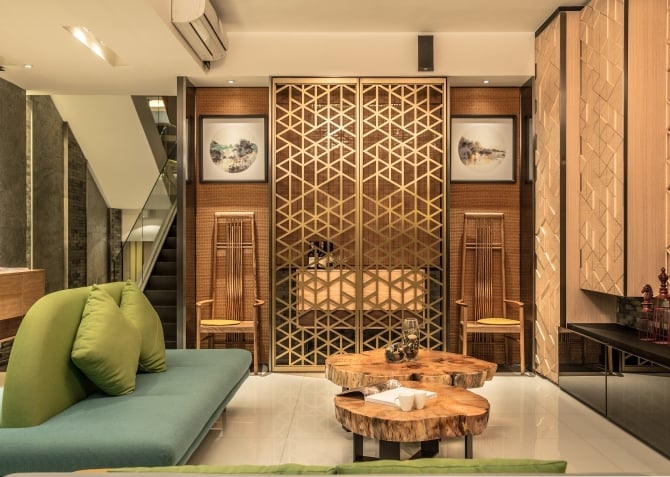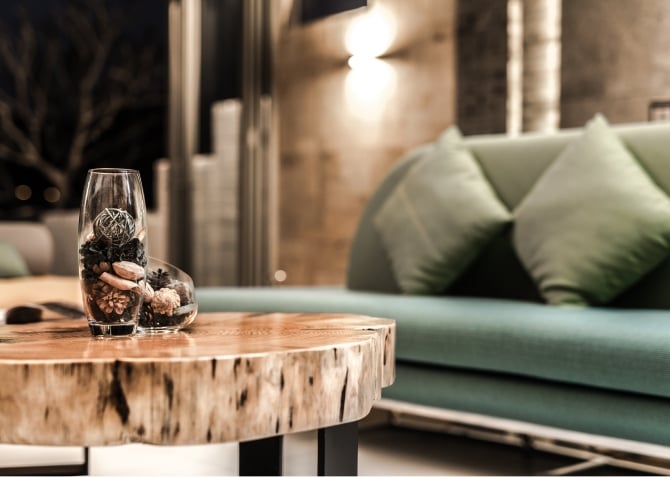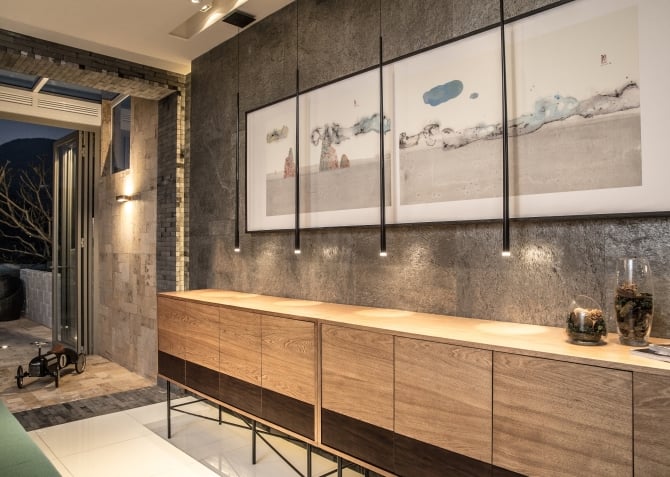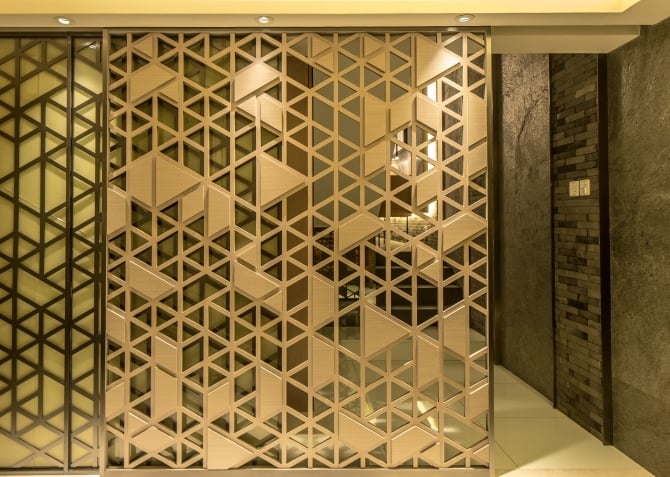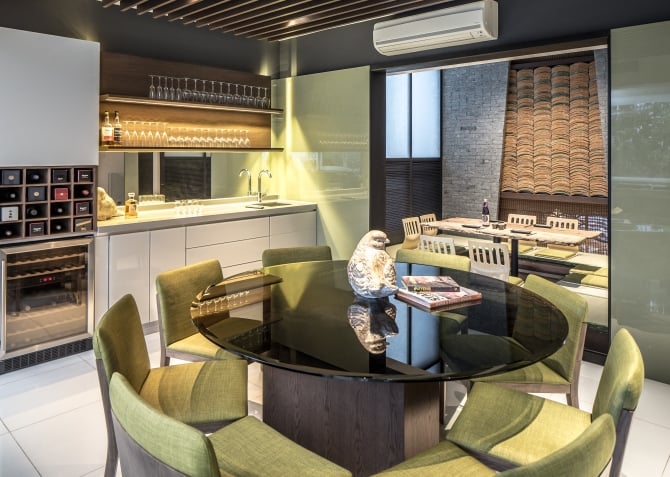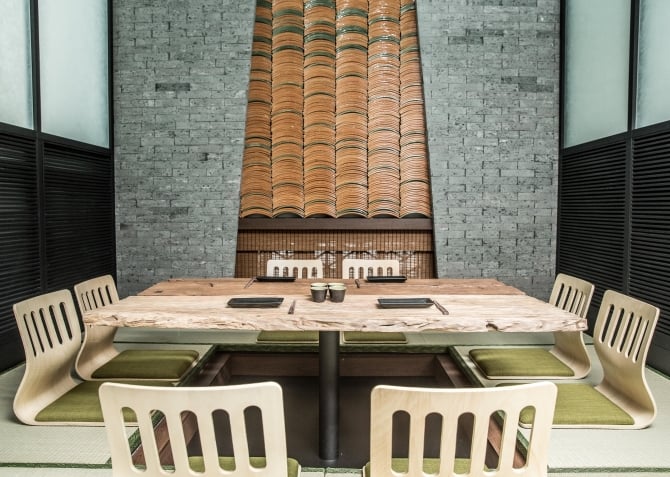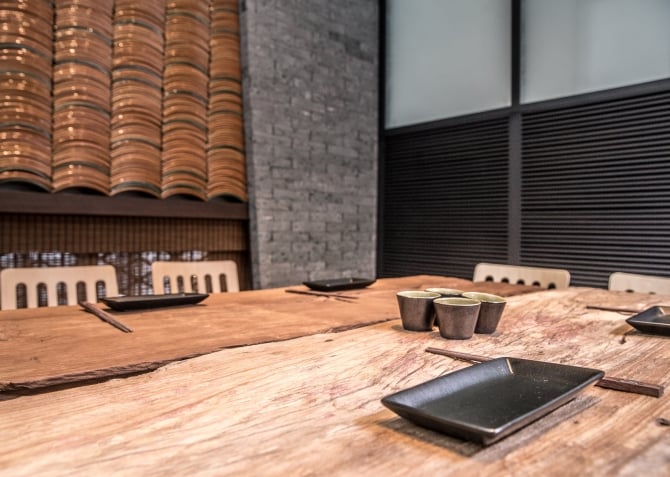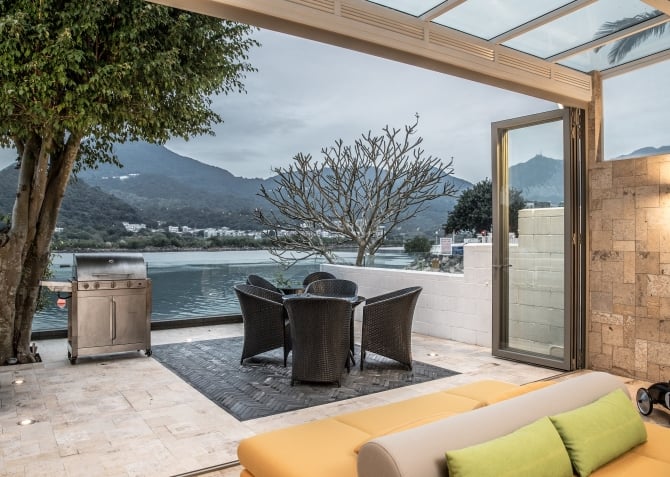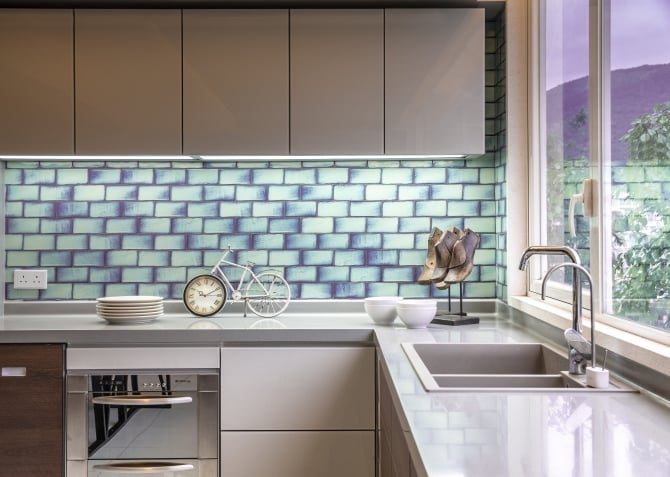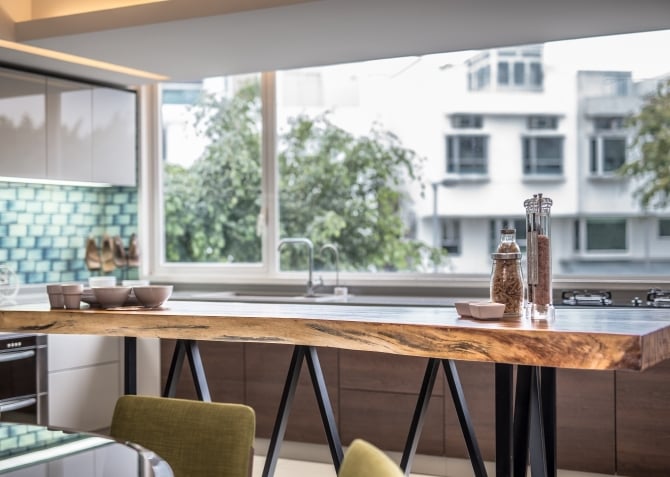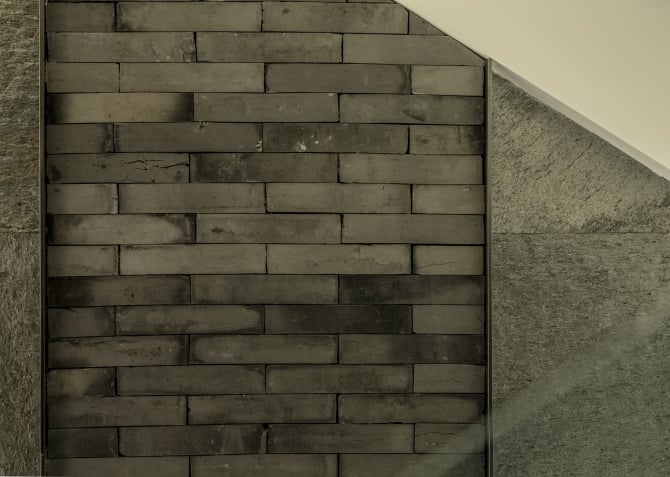 Resort - Oversea Chinese Town (OCT)
A sophisticated duplex residence with elegant refined interior. The exquisite decoration, air-conditioning and lighting system create the ideal environment for luxury living.
High ceiling advantage:
With the advantage of a six meter high ceiling, the beautiful crystal chandeliers, feature wall and metallic patterned screens give rise to a three-dimensional feel in a palatial aesthetic space.
Calligraphy and Art Studio:
The Chinese-style calligraphy and art studio offers a magnificent terrace view. The sophisticated calligraphy table and antique collections add strong cultural flavor to the ancient artwork display.