Kitchen / Cupboard Design
Highlighting 'distinction and durability,' LA ATELIER kitchen bring together the Italian design high-tech tempered glass finish and aluminium alloy inner cage. The cabinet shows a number of features. The slide rail and accessory fittings imported from Australia and the wooden panels are flame retardant, stain and moisture resistant. Combining years of experiences, we offer amazing styles for the ultimate culinary journey.
Kitchen Concept of Design
LA ATELIER kitchen focus on innovative 'user-centered' modular design. The tailor-made layout and ergonomic design caters to various space and storage needs.
| | |
| --- | --- |
| Storage Zone | Wide cabinet space makes storage placement more convenient for daily groceries, snacks and canned food, etc. |
| Kitchenware & Utensils Zone | Built-in soft close drawer slide / available in electric or manual operation. Cutlery tray with built-in dividers makes organising easy. |
| Washing Area | Sinks, faucets, bacteria resistant stone countertops, waste bins and water filters ensure hygiene standard. Cleaning products storage beneath. |
| Food Preparation Zone | To streamline food preparation; (Chopping boards, cutlery, dish washer, wine & seasonings, etc) zone ideally placed near washing area. |
| Cooking / Baking Area | The smart cooktop automatically adjusts power according to stove surface temperature. The intelligent range hood effectively reduces cooking fumes. Various cooking utensils, pots and kitchen appliances, etc., can also be placed here. |
Layout & Features
Make home cooking fun with a sleek, modern look kitchen. Emphasising work flow and convenience, cabinetry components comply with safety and environmental regulations. Handy storage with chic' look delivers exceptional craft; surpassing customer expectations.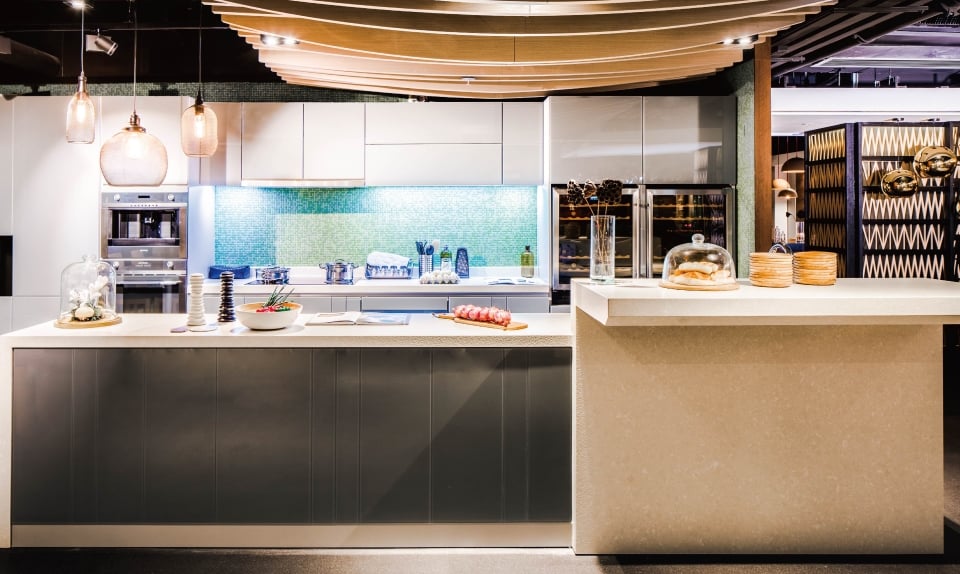 Island Kitchen
A kitchen island placed in the central area adds storage and cabinet versatility. In addition to cooking, the extra space supports a lifestyle embodiment for all your social gatherings.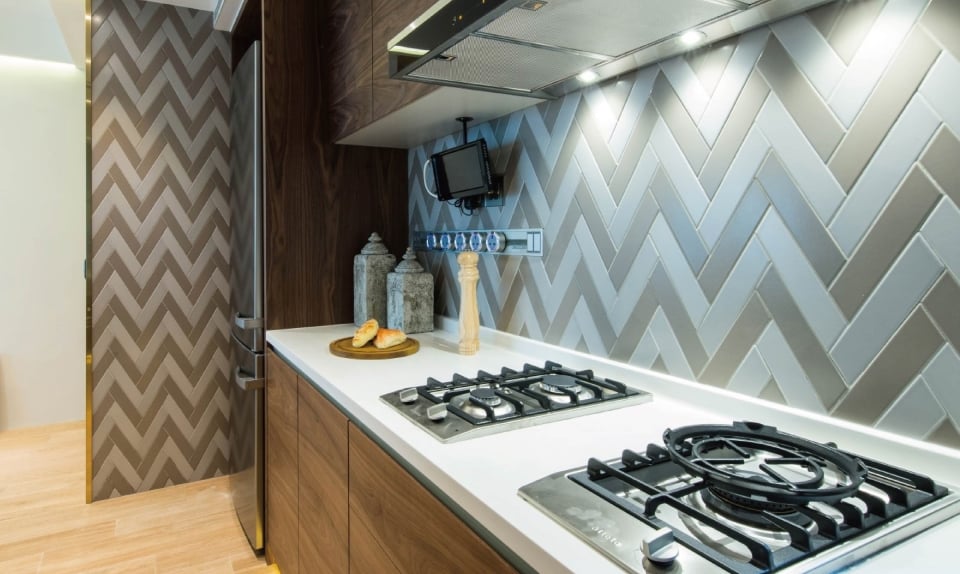 The One Wall Kitchen
With limited space availability, cabinets and electrical appliances are positioned on the same side.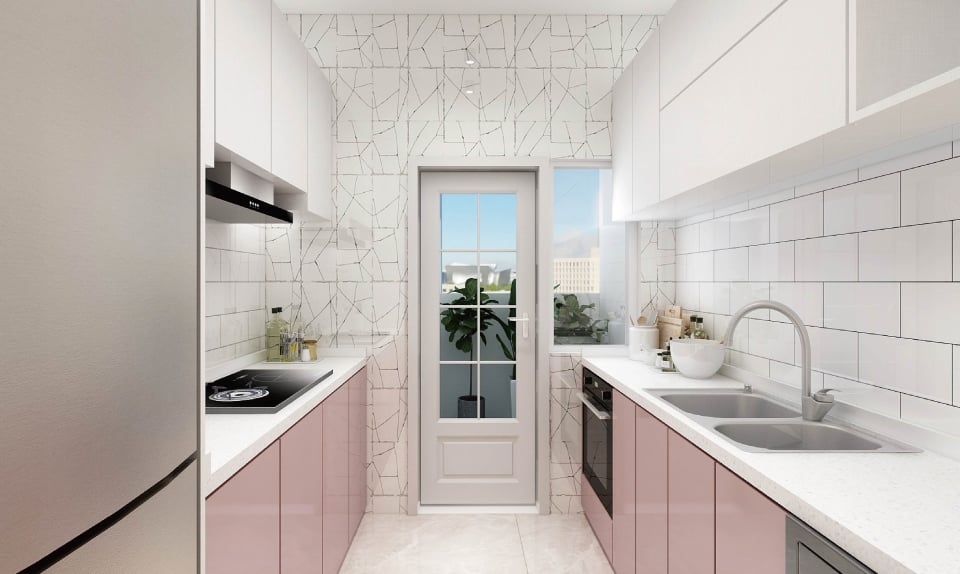 The Galley Kitchen
Highlighting the ease to dispense utensils and work both sides of the kitchen, this design layout can also be equipped with larger stove and built-in appliances. If semi-opened, the outward side of the cabinet may be used as a bar table.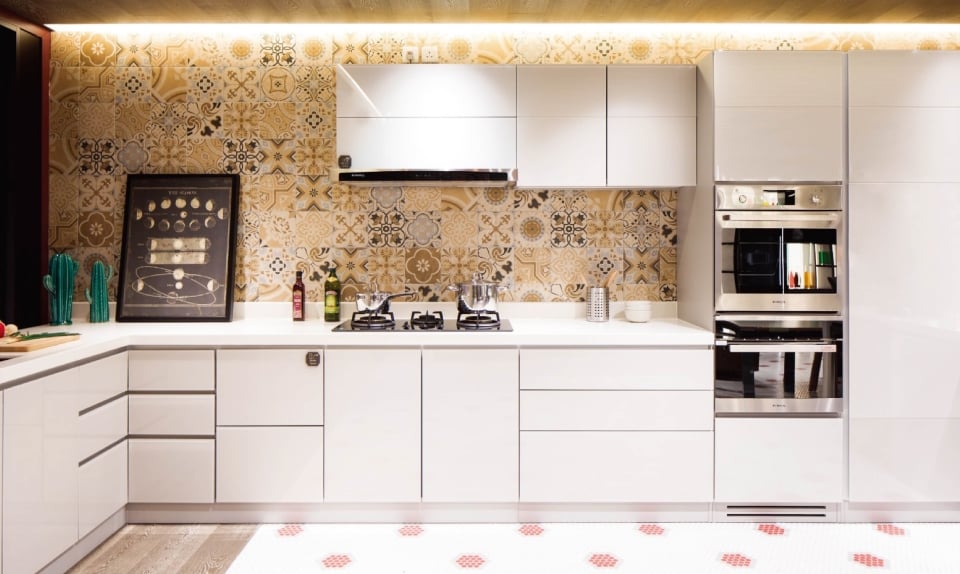 L-Shaped / T-Shaped Kitchen
Offering greater flexibility for appliances and work areas, the optional L-shaped kitchen layout has cabinet placing along the perpendicular walls. The stove and range hood are generally placed on the longer side of the wall, while the refrigerator is placed on the short side. To further increase versatility, the T-shaped layout facilitates a dining area in the opposite corner.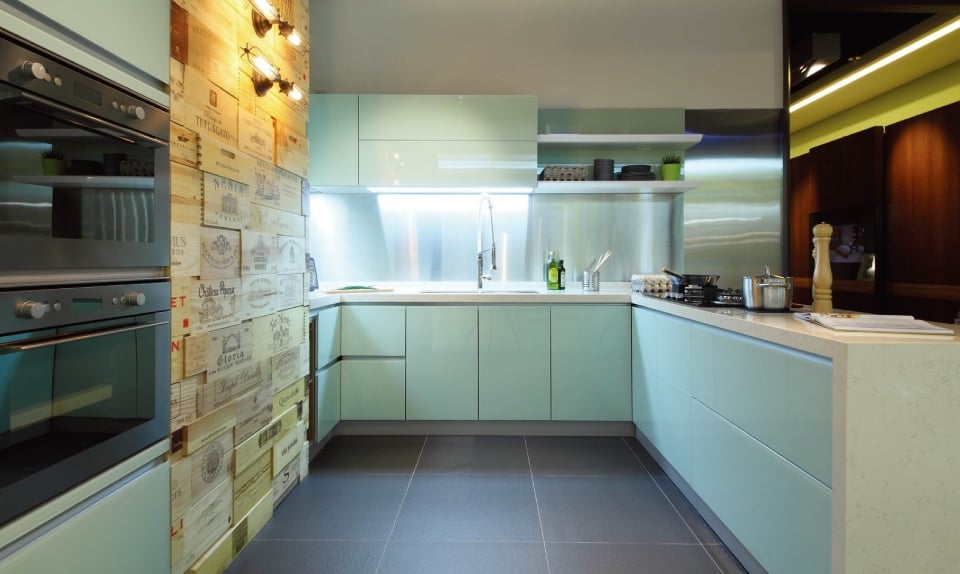 U-Shaped Kitchen
The practical U-Shaped Kitchen design provides ample space for multiple users. The cabinet fully utilises the extra workspace for various cooking appliances.
LA ATELIER Kitchen Features
Finely polished frame surface with engraved logo shows highest quality rating.
Advanced aluminium cross bar strengthens bench top with weight bearing support. Built-in vent holes support inner air circulation cleanliness.
Drawer handle - configured with slip resistant feature.
Slow speed soft close door achieves silent operation. Swing door is equipped with the groove to prevent droplet from falling into the cabinet.
The high-density aluminium door frame is long-lasting with nil heat stress deformity.
The adopted BLUM rails and accessories kitchen system, (imported from Austria) together with OSLASA (Spanish brand) 'high-end' door hinges, features extreme durability.
Heavy duty soft close slide provides 30kg and 60kg load-bearing options meet demanding storage needs of large families.
In response to humidity issues, kitchen cabinet panels in our kitchens meet high durability 'moisture' resistant standards.
All kitchens adopt E1 waterproof core panels.
As distinct from Particle Board average density of 300-400g, our E1 Core Board rating 600g.
E1 Core board meets international standards. Formaldehyde emission of less than 1.5mg alleviates health concerns.